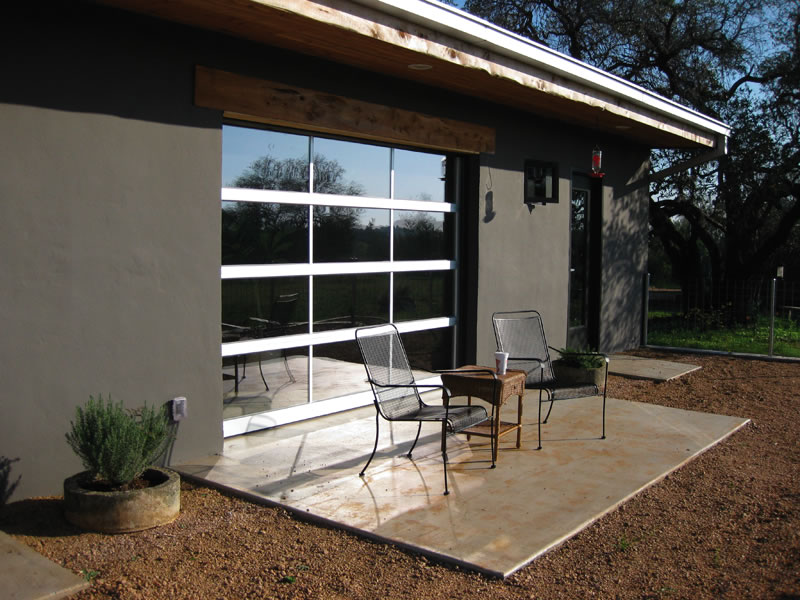 Glass Garage Doors
Glass garage doors are becoming an item that many people are now using on their garages. There is a certain appeal about having this type of door where security is not a concern. The garage door comes in almost an unlimited number of styles and price ranges as well as the material used to construct them.  Many of the pane type of garage doors are of plexiglas as well as regular glass panes. Some of the doors have two layers of glass-looking material. The first layer is regular glass and the second layer is plexiglas which protects the glass pane from errantly thrown balls, rocks, or hailstones.  The glass and plexiglas also comes in many different colors and thickness which prevents people from being able to see into the garage itself.
Door Construction
The strength of the doors is constituted by an "extruded" aluminum alloy frame. This frame has extremely high strength which makes it very durable. When looking at purchasing a glass door, make sure that the framing of the door is "extruded" aluminum as this is much stronger than a normal aluminum frame. These door frames are constructed in such a manner that they will give you the most dependable service under the harshest of conditions. The door will be lifted by any number of regular door openers, without any major problem. Some glass/aluminum doors are almost as heavy as a wooden door and consideration should be give to having a 1/2 horsepower opener which will lift the door quickly.
Glass Etching
There are some manufactures who will do glass etching and make almost any design that you would like on the glass window. This will add a considerable cost to the door, but if this is what you want, it would be a good idea to have the factory do it for you rather than have someone etch the glass after installation.
[box type="info"] Got views on your property? Consider installing a Glass Garage door! Oceanfront Balcony? its a huge, classical window to enjoy! [/box]
https://www.losangelesgatecompany.com/wp-content/uploads/2011/12/glassdoor_ranchpatio.jpg
600
800
admin
https://www.losangelesgatecompany.com/wp-content/uploads/2017/09/1-method_logo-Noam.jpg
admin
2011-12-06 11:08:08
2017-07-16 19:47:31
Glass Garage Doors – not only for garage! Open Space re defined.