OUR GATE SHOP
DESIGN & FABRICATION HAPPENS HERE
Design & planning
The first step, after we learn how our customer like the gates to be, is drawing.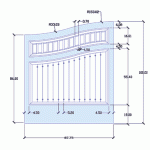 Many times the customers are choosing an existing design and in that case we already have the plans ready to execute.
When we are satisfied with the design, we can start preparation for fabrication process.
It starts with measuring and cutting the wrought iron bars to parts we can later weld together.
This way of fabrication we can create great work, custom made per order.
FROM BARE METAL TO GATE
MEASURING, CUTTING, WELDING .. THE WHOLE SHABANG