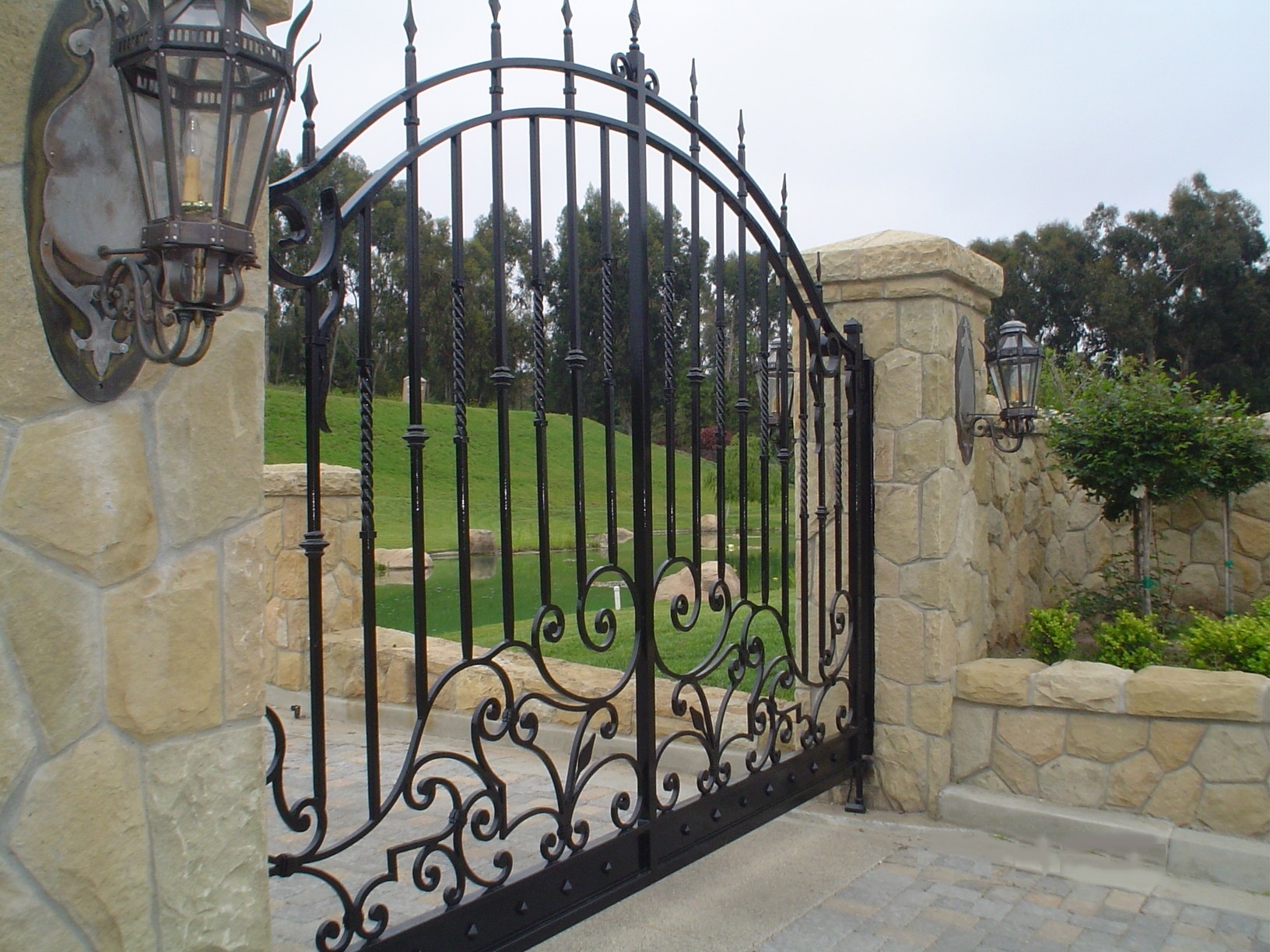 When discussing wrought iron, one must have an idea of exactly what wrought iron is and whether or not one would want a gate made from this material. The carbon content of wrought iron is below .25%. This is the type of iron that most blacksmiths like to work with when making things like gates or iron bars for residence windows and doors. The wrought iron is not as smooth as steel, but it is serviceable and is easy to weld. Wrought iron has been used to make furniture, nails, screws, etc. The iron was also the first to be used in making ironclad warships for the navies of the world. One drawback of wrought iron is the weight of a finished product.  In making a wrought iron gate, one must take into consideration the fact that the gate will be very heavy, for its size.
Fabrication of the Gate
When making a wrought iron gate, it is important to limit the weight as much as possible.  Most of the time, as a means of keeping the weight down, there are many and varied designs cut into the worked iron which leaves voids or open spaces in the gate. Another thing to consider is the length of each gate piece must be controlled in order to keep the gate from sagging and scraping on the cement, when opening and closing. Wrought iron is best used for small gates such as garden gates or side gates to a yard. The wrought iron gate does make for a strong sliding type of gate which is controlled by some type of electric motor to pull it open and to close it.
[box type="info"] If you need advise, idea of design feel free to call us. for further inspiration we recommend pintrest gates section, where you can get really mind blowing ideas. when you happy with the design, just shoot us an email and we will make it happen.[/box]
[box type="bio"] We specialize in wrought iron gate gates. for an estimate feel free call us now! [button link="tel:323-275 9404″ type="big"] 323-275 9404[/button] [/box]
http://www.losangelesgatecompany.com/wp-content/uploads/2011/12/estate_special_gate.jpg
1224
1632
admin
admin
2015-09-06 10:05:24
2016-11-23 15:49:46
Wrought iron gate